Hey, Everyone!
Thanks for showing interest in what's coming next from me.
What I'm Working On Now:
I'm currently knee-deep in a new Paranormal Romance series that will be releasing later this year. Check back frequently.
Be sure you're signed up for my Newsletter it's the best way to stay up-to-date on all my upcoming projects.
What's Coming Soon:
Book Two in the Mirror Lake Wolves series!
Look for more info coming soon!
What Just Released: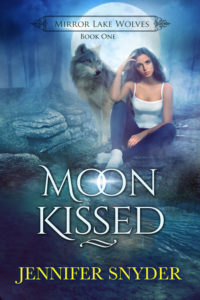 Something sinister lurks in the Mirror Lake woods…
Life is different for those living in the Mirror Lake Trailer Park, especially where Mina Ryan is concerned. She's been waiting years for her werewolf gene to trigger, and the clock is ticking. If she isn't Moon Kissed soon, Mina runs the risk of becoming an outsider to more than just the townspeople of Mirror Lake. Unless her werewolf gene triggers in the coming months, Mina will become an outsider within her pack as well.
It's almost an unthinkable fate, one Mina finds herself needing to be distracted from. And who better to distract her than Alec Thomas, a charming Southern cutie…who happens to be human? Alec isn't the only one who's captured her attention, though. The handsome Alpha's son, Eli Vargas, has his eye on her as well, much to the pack's approval.
Bigger issues for Mina arise when she learns one of her pack members has gone missing and that she might know something about their disappearance. There's only one person Mina can turn to for help. Too bad she has a hard time trusting herself when she's around him…
As the mystery grows while two men vie for Mina's attention and the next full moon looms closer, it's all Mina can do to keep her head and heart in check.